What is CTOS Verification?
CTOS Verification is a new service provided by CTOS Digital Berhad, utilising a combination of CTOS products and services to determine that a business is legitimate and profitable. The following CTOS products / services are used for this process via a point-based system:
• CTOS Basis Credit Report – Probability of Default <2.3% (at least average default risk);
• CTOS SME SCORE Report – SME Score must be at least equal or higher than 290;
• CTOS Basis Site Visit Report – Operational active status, with physical site address matches the company registry, with no pertinent operational red flags highlighted;
• Ensure consistent payment with CTOS Credit Manager services; and
• No critical litigation issues pending as of verification process.
Once a business is verified, it will receive a CTOS Verification badge. This service is available to CTOS Credit Manager subscribers.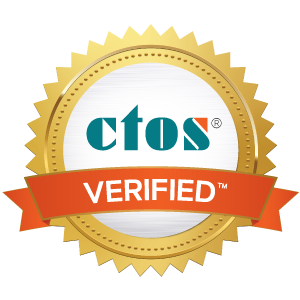 What are the benefits of getting verified?
There are multiple benefits of receiving a CTOS Verification badge:
• Instil confidence in your suppliers and customers to do business with you
• Increase visibility of your business, as well as products and services to prospects
• Review your own company for future improvement
CTOS Verified Companies
Updated as of 3 Jan, 2023.