Home Loan Eligibility Calculator
How much do you earn?
How much is your monthly commitment?
All loan amounts shown are indicative according to criteria provided by banks and do not constitute a guarantee of bank approval or loan amount obtainable. All loans are still subject to final approval from banks.
You are eligible for an amount of up to
RM 0
With a monthly payment of
RM 0
You can afford a monthly payment of up to
RM 0
Get MyCTOS Score Report
Applying for a home loan? Know your credit score to improve your chances of getting approved.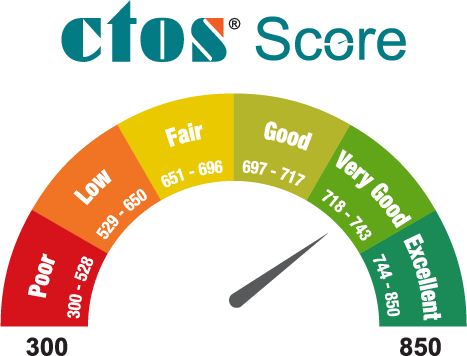 Take control of your financial health
Understand how you might look to a lender/bank
Detect signs of identity theft early
Get access to the best financial products for you
What's included in MyCTOS Score Report:
CTOS Score
CCRIS Records (BNM)
Access to Rewards
Personal Information (NRD)
Directorship & Business Interest (SSM)
Litigation & Bankruptcy
Trade Referee Listings (eTR)
Frequently Asked Questions
How is my home loan eligibility calculated?

Your eligibility is determined by a few important factors, including income and personal debt servicing ratio.

What is my Debt to Service Ratio (DSR)?

The debt service ratio (DSR) is a debt service measurement that financial lenders use as a rule of thumb when determining the proportion of gross income that is already spent on housing-related and other similar payments.

Am I eligible for a home loan if I already have a loan?

You may still be eligible for a home loan even if you already have another loan. Whether your loan is approved or not may be determined by a number of factors, such as your income level and the information contained in your latest MyCTOS Score report (including CCRIS details and CTOS Score). The final decision on loan approval depends on the bank or lender, but having a good credit score and credit health in general can increase your chances of getting your loan application approved.

What can I do with the results of this Home Loan Eligibility Calculator?

You can search for and choose the best loan for yourself based on the calculator's results, without wasting time by visiting multiple banks.

How can I apply for a home loan?

You may apply for a home loan by visiting any bank of your choice. Be sure to take along all necessary documents (which may differ from bank to bank) to help speed up the application process.