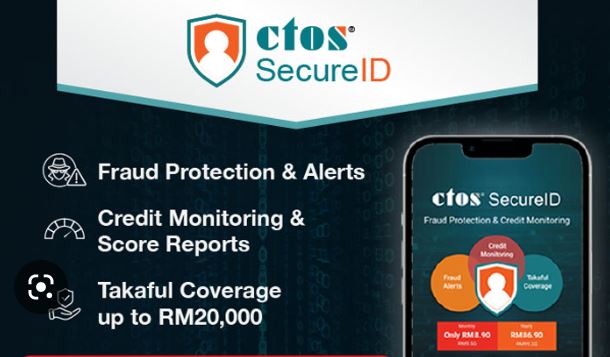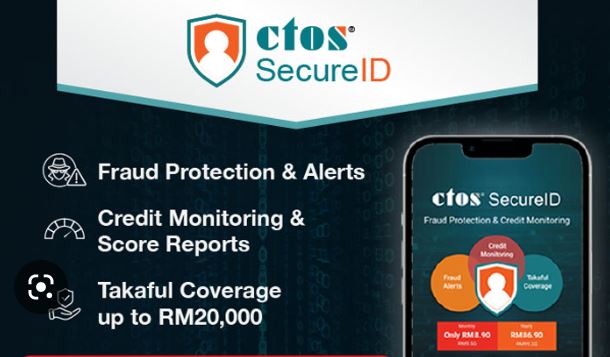 1.8 billion scam calls in the last 5 years - Be extra vigilant of scammers!
By CTOS Team
The Malaysian Communications and Multimedia Commission (MCMC) has reminded Malaysians to be extra vigilant of scammers looking for their next prey during the festive season.
Communications and Digital Minister Fahmi Fadzil said the MCMC blocked 1.8 billion scam calls from 2017 and 300 million scam messages since 2018.
Fahmi advised victims to call the National Scam Response Centre (NSRC) at 997 to make a report should there be a scam incident in order for immediate action to be taken to prevent victims from losing their money.
If the worst should happen, CTOS SecureID will be able to alert consumers of any changes in their credit profile or should any personal information be found or leaked in the dark web.
For example, if there is a new credit application has been registered under your name, SecureID will alert you so you can take the necessary steps to safeguard your finances.
"Scam calls are not just used to gain direct access to consumers' money, but can also be used to gain important security information from unwitting victims that criminals can exploit weeks, months or even years later to compromise financial accounts. This, more sophisticated type of fraud, can create problems that can affect your finances well into the future," said CTOS Chief Executive Officer Erick Hamburger.
Find out more about CTOS Secure ID fraud protection and credit monitoring solution at https://ctoscredit.com.my/fraud-protection-credit-monitoring/
CTOS and Nikkei signs MOU to develop news monitoring features
KUALA LUMPUR – CTOS Digital Berhad (CTOS) has recently signed a Memorandum of Understanding with Nikkei Inc. (Nikkei), one of the world's largest business media groups, headquartered in Japan to broaden business scope.
The goal of the new collaboration is to promote the effective utilization of corporate data and news, provided by the two parties. Both parties will develop a news monitoring service on CTOS platforms via scoutAsia. CTOS and Nikkei will also explore the opportunity to power Nikkei products & platforms using CTOS's global business and information.
CTOS Digital Berhad Group CEO, Eric Hamburger said the collaboration with Nikkei will allow more comprehensive types of data to be offered to clients and customers across Asia.
"Data and analytics are at the core of everything that we do at CTOS. Being able to expand the types of data that we can offer our clients, while simultaneously increasing the reach of our services across Asia with Nikkei is an important step forward for us in the region.
"In CTOS, we offer a broad suite of innovative digital products and credit risk management solutions and services, being the holding company of ASEAN's leading credit reporting agencies," he said at the MoU signing ceremony recently.
Meanwhile, Nikkei Inc. Managing Executive Officer Toshio Machida said the organization has been investing actively in Asia, developing technologies and building partnerships with best-in-class global information providers.
"We are thrilled to collaborate with CTOS to explore new ways of providing customers with business insights,"he said.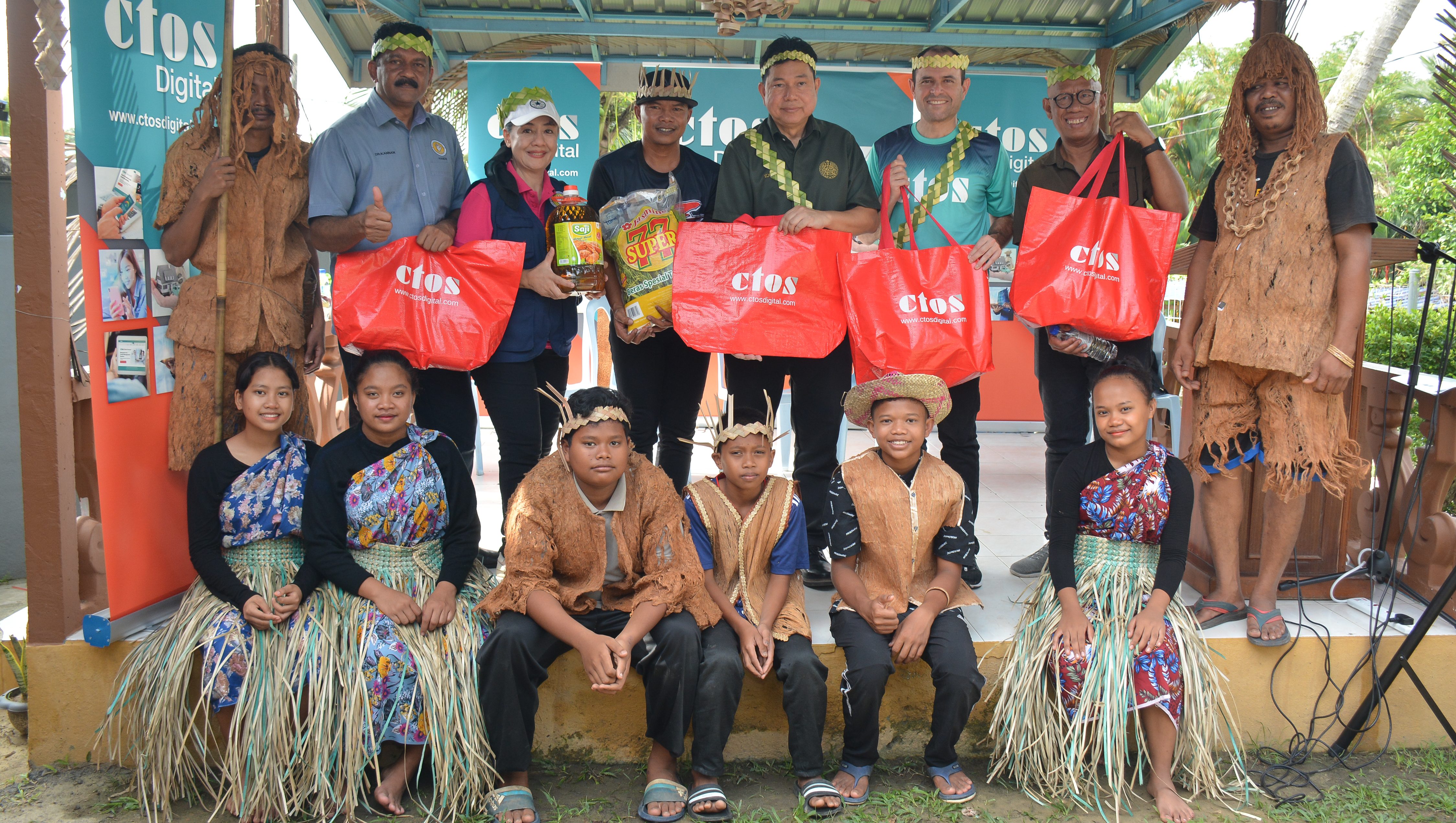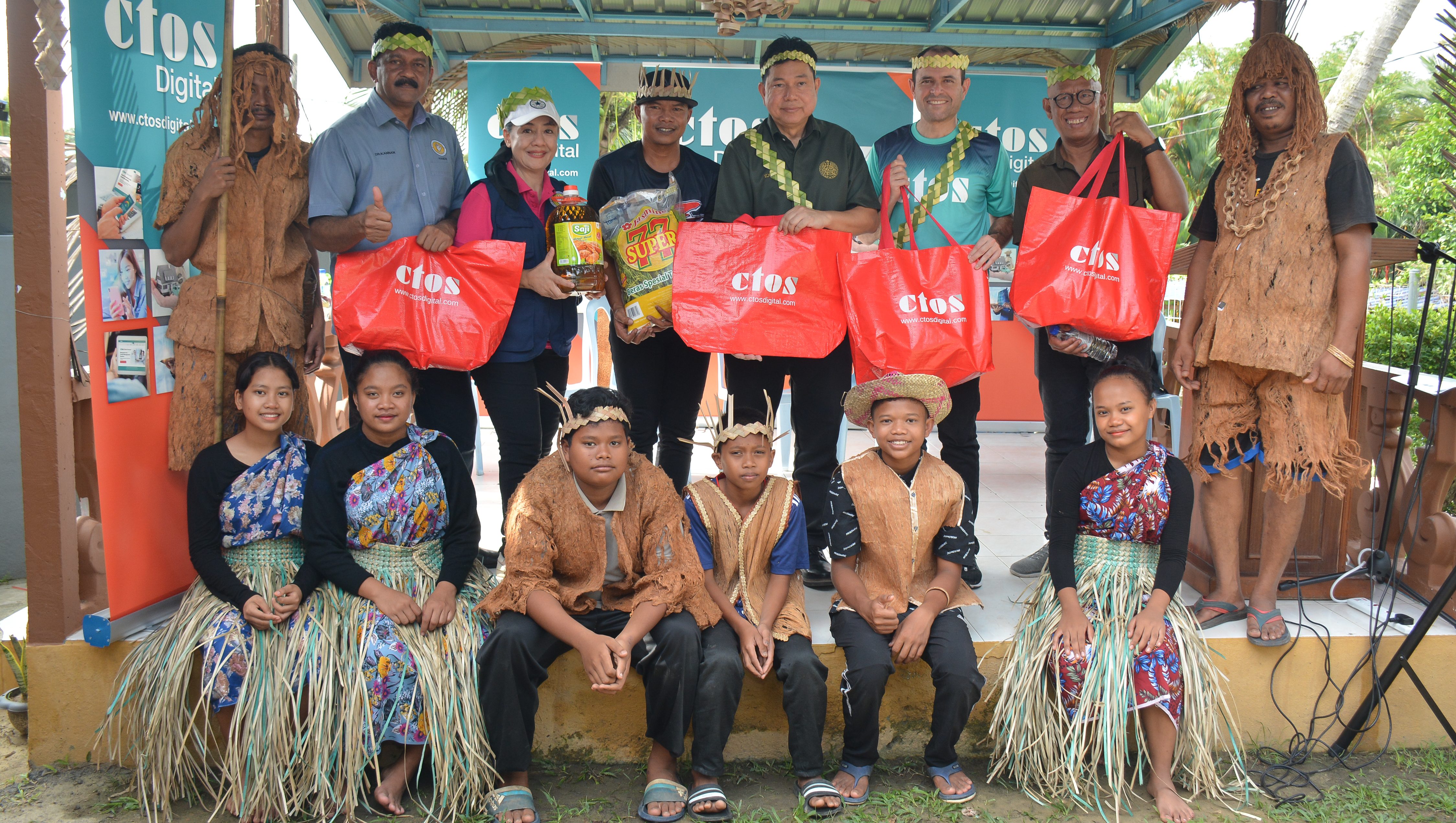 Visiting Orang Asli community at Puchong
Puchong : CTOS Digital Berhad brought cheers to some 400 villagers in the Orang Asli community, striving to improve the living standards of the needy and underprivileged.
The corporate social responsibility (CSR) program saw some 100 families receiving basic necessities to achieve its sustainability pillar in giving back to the society.
The one-day program, in conjunction with Human & Nature Development Society (HANDS), also witnessed CTOS Digital Berhad carrying out fun-telematch programs with the Orang Asli toddlers, besides distributing basic and essential necessities.
CEO Erick Hamburger said the company aims to instil deep appreciation on sustaining the community and environment by uplifting the underserved indigenous community.
"Our CSR activities such as donating food supplies serves to enhance the social wellbeing of individuals, families and communities who have limited access to the basic needs and services.
"Corporations should put the needs of communities before profits and this program also gives an opportunity for our employees to serve and engage with the Orang Asli," he said.
The program also saw the families receiving packed lunch and lunch buffet served besides kids' goodie bags and basic essentials basket.
Also present HANDS Patron, Yang Mulia Tengku Dato Dr Hishamuddin Zaizi Bin Y.A.M Tengku Bendahara Azman Shah Alhaj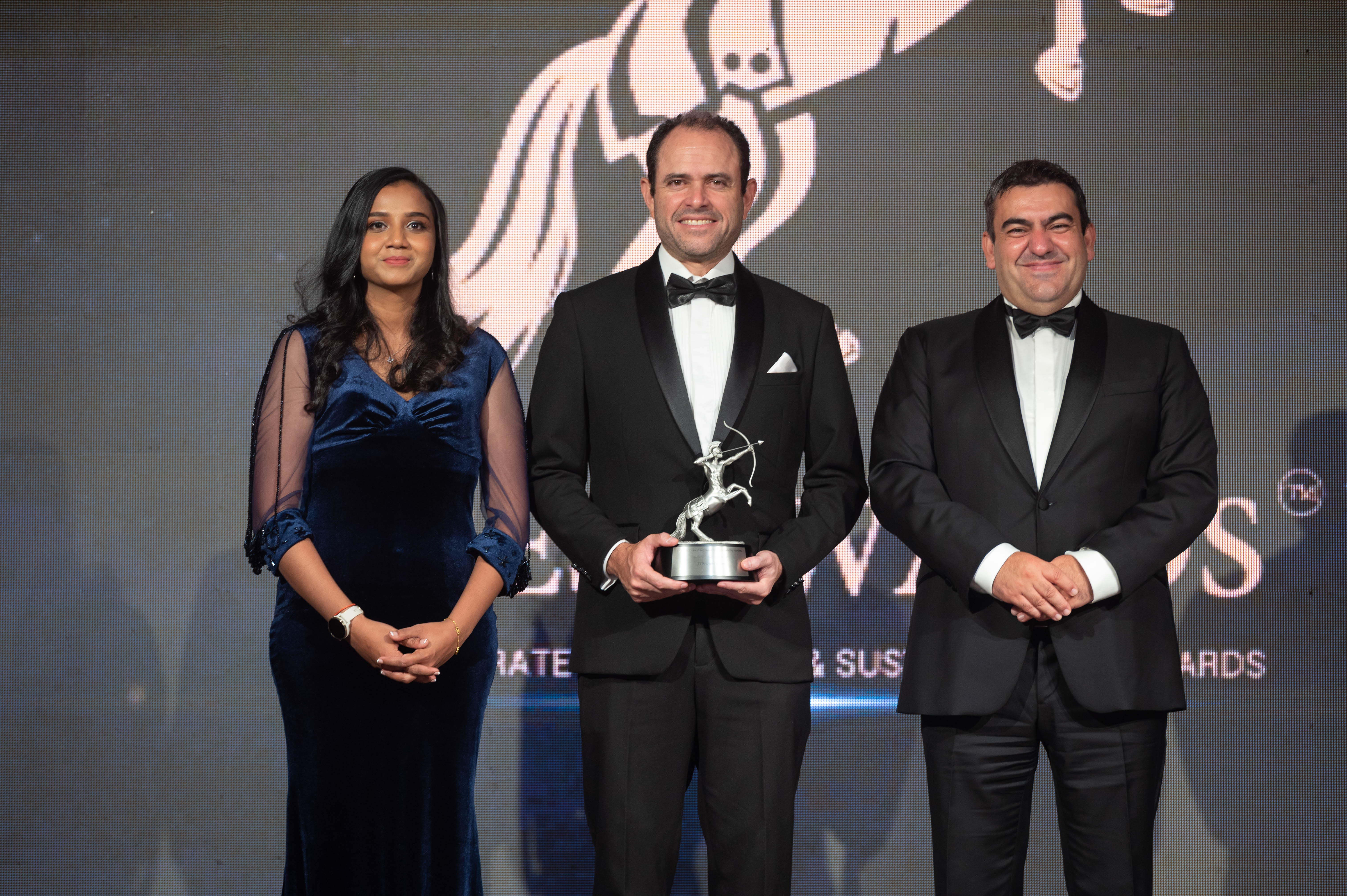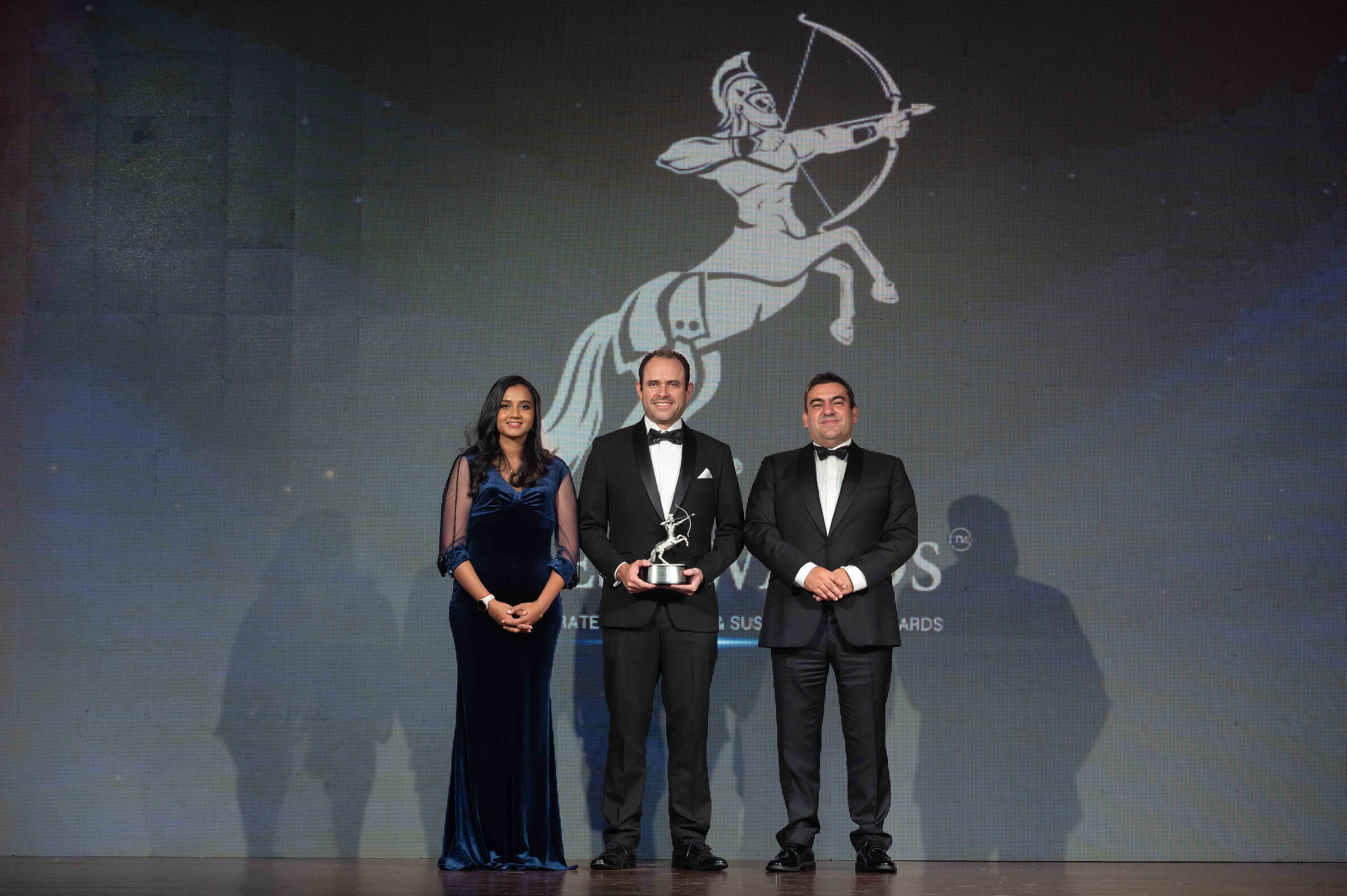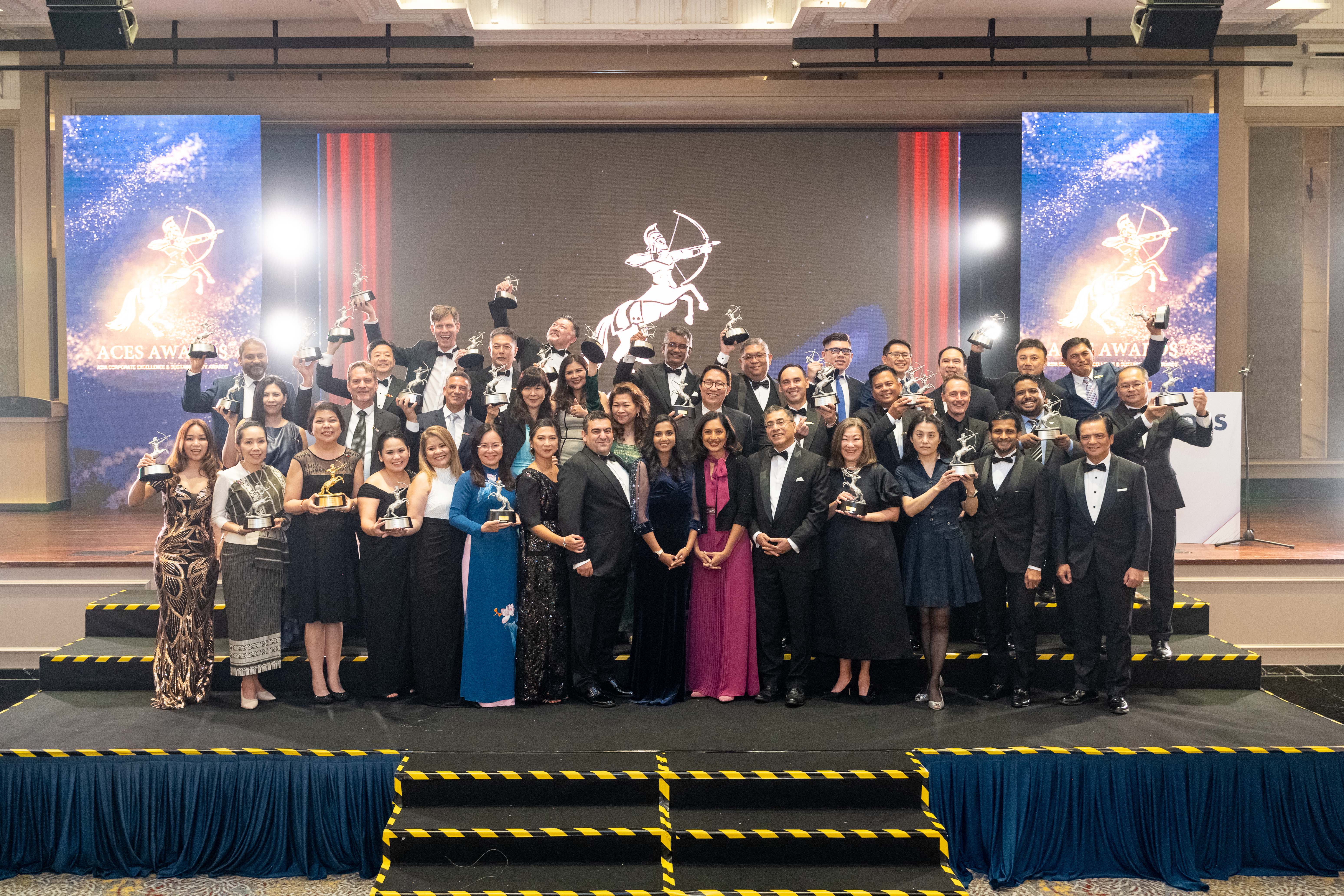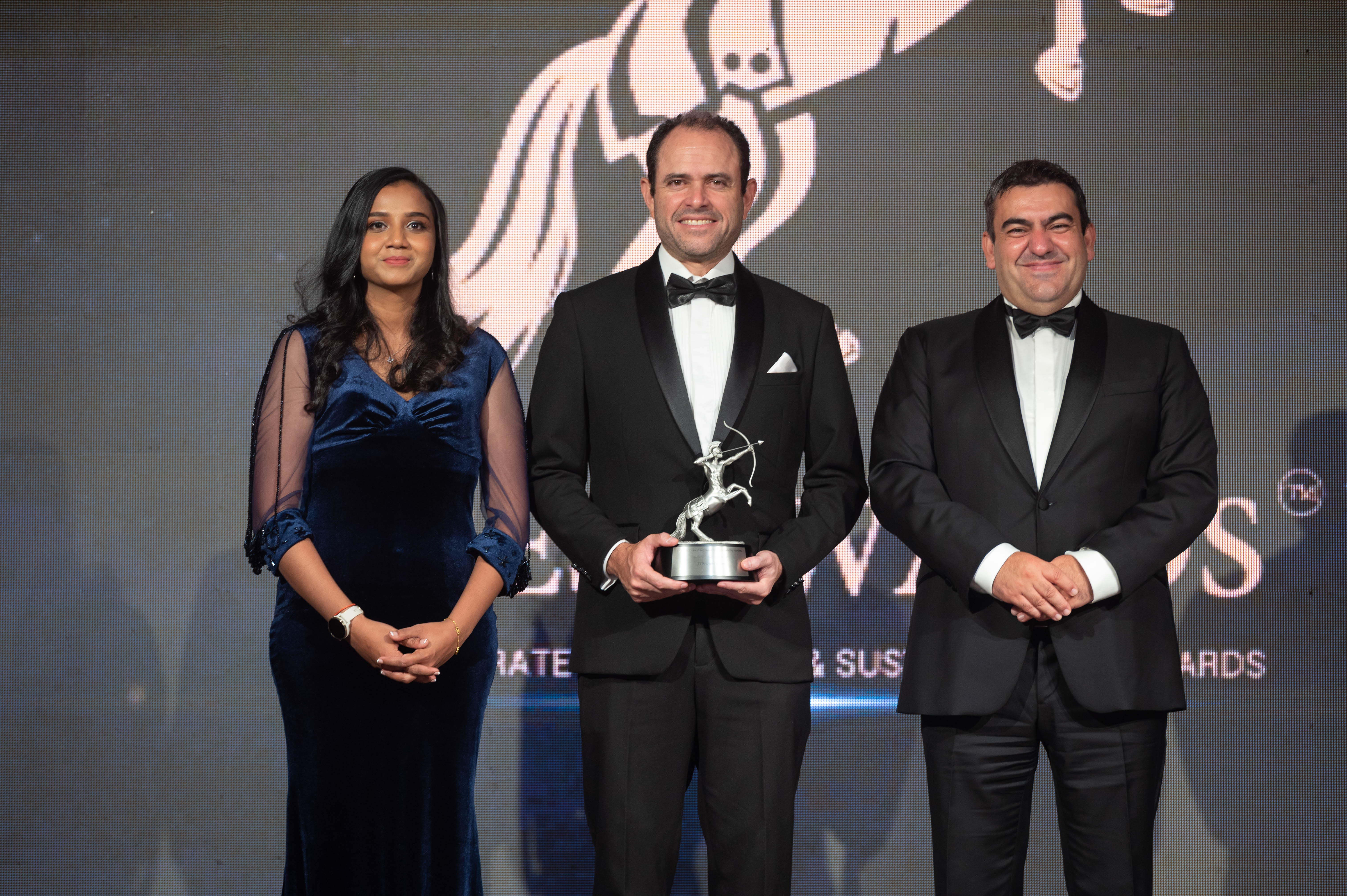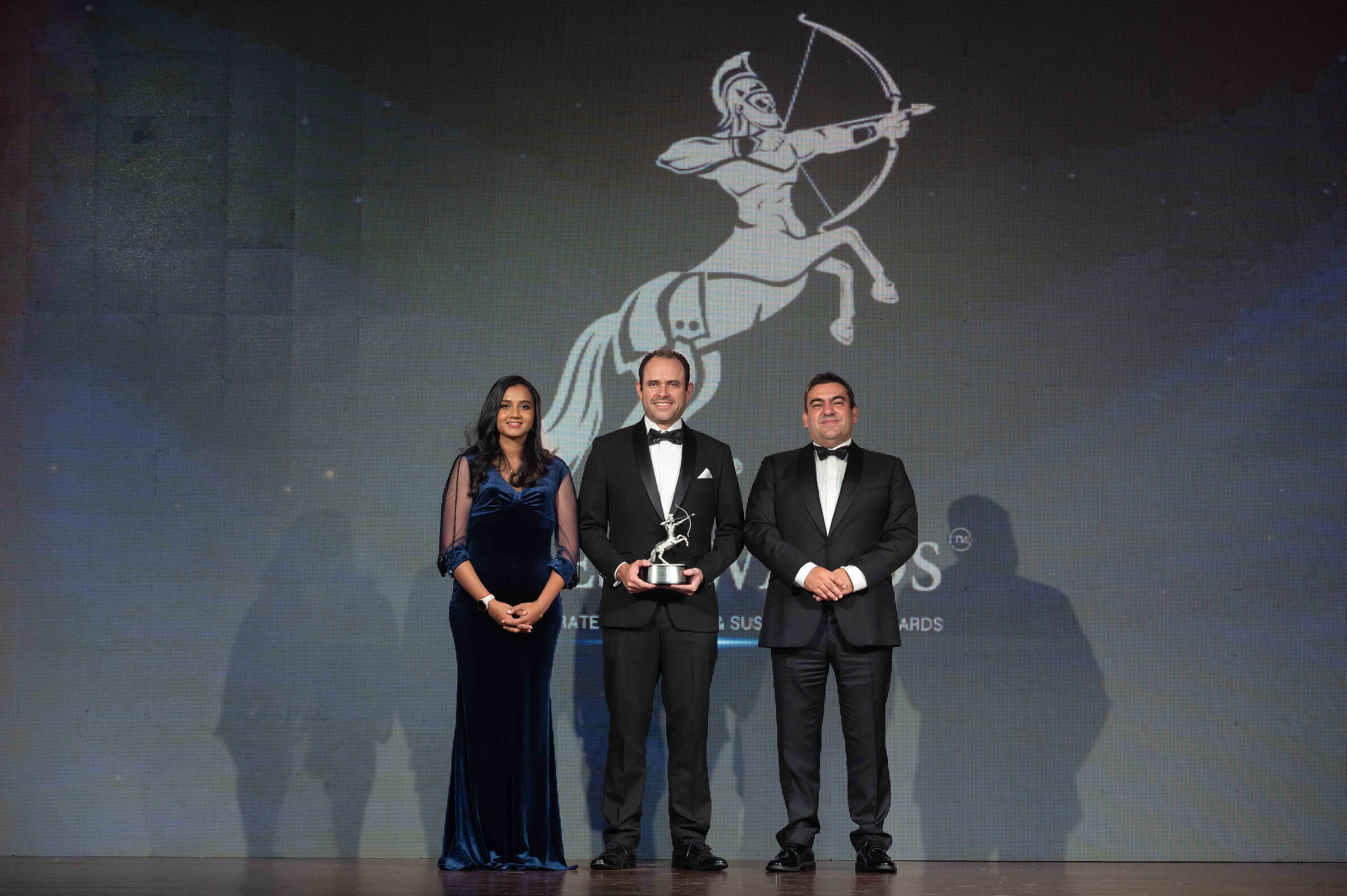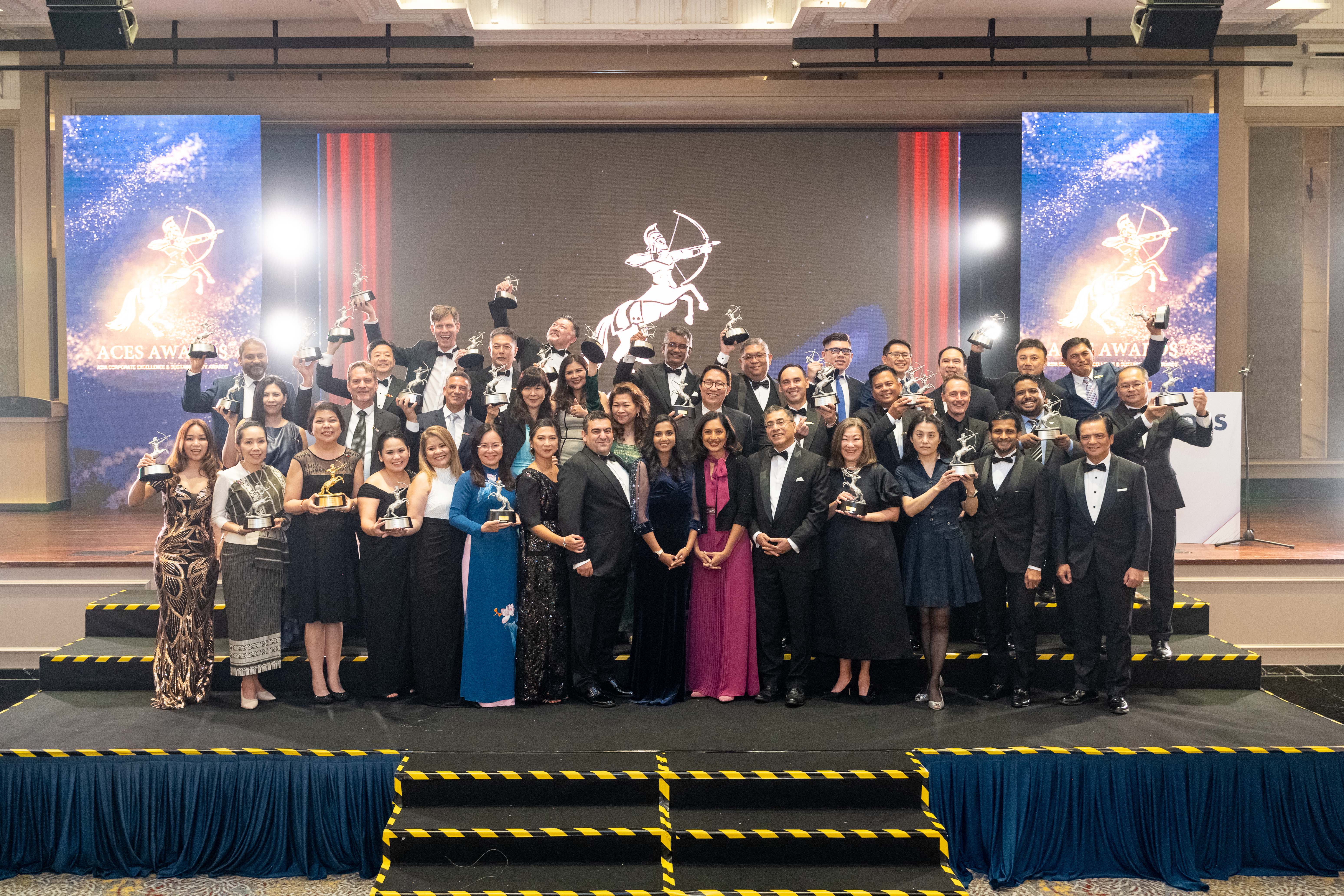 CTOS Digital Berhad bags the Asia Corporate Excellence & Sustainability Awards (ACES) 2022
KUALA LUMPUR : CTOS Digital Berhad, ASEAN's leading credit reporting agency, won the ACES Awards 2022 under the category of Innovative Tech Companies of the year recently.
The ACES Awards, organised by MORS, showcases Asia's finest responsible corporate leaders since 2014.
It is also one of the most prestigious accolades that recognises inspiring leaders and sustainability advocates cross-industry and across Asia.
CTOS Digital Berhad's principal activity includes providing digital end-to-end solutions in the business of credit reporting, digital software and information related services, database management and aims towards enhancing the financial health of consumers.
In the pursuit to make Malaysia a centre of excellence for credit reporting in ASEAN, CTOS's growth has been premised upon delivering sustainable and value-driven solutions, not only to the customers, but also the communities and environment.
Erick Hamburger, the Group CEO, proudly received the award on stage, being the first winner under the category of tech companies.
"We are very honoured to receive the ACES Awards and thank you for inviting us.
"CTOS recognises that empowering sustainable credit wellbeing in Malaysia requires a resolute commitment to economic efficiency, environmental performance and social responsibility, accompanied by a strong governance structure.
"Since the past recent years, CTOS has focused on embedding sustainability priorities within its strategic initiatives.
"Various initiatives that reflect CTOS' commitment has been built based on values that promotes sustainability," he said after receiving the award at JW Mariott Kuala Lumpur.
The ACES Awards bring Asia's business aspirations and success stories to the world stage through knowledge sharing and recognition.
The recognition also help companies to accelerate their growth of revenue and profits while showcasing the good reputation of the visionary leaders.
The award show saw at least 17 countries participating in the event with more than 450 corporate companies enrolled, out of which 155 were shortlisted.
A total of 93 CEOs bagged the ACES Awards 2022 on that night under 24 different categories.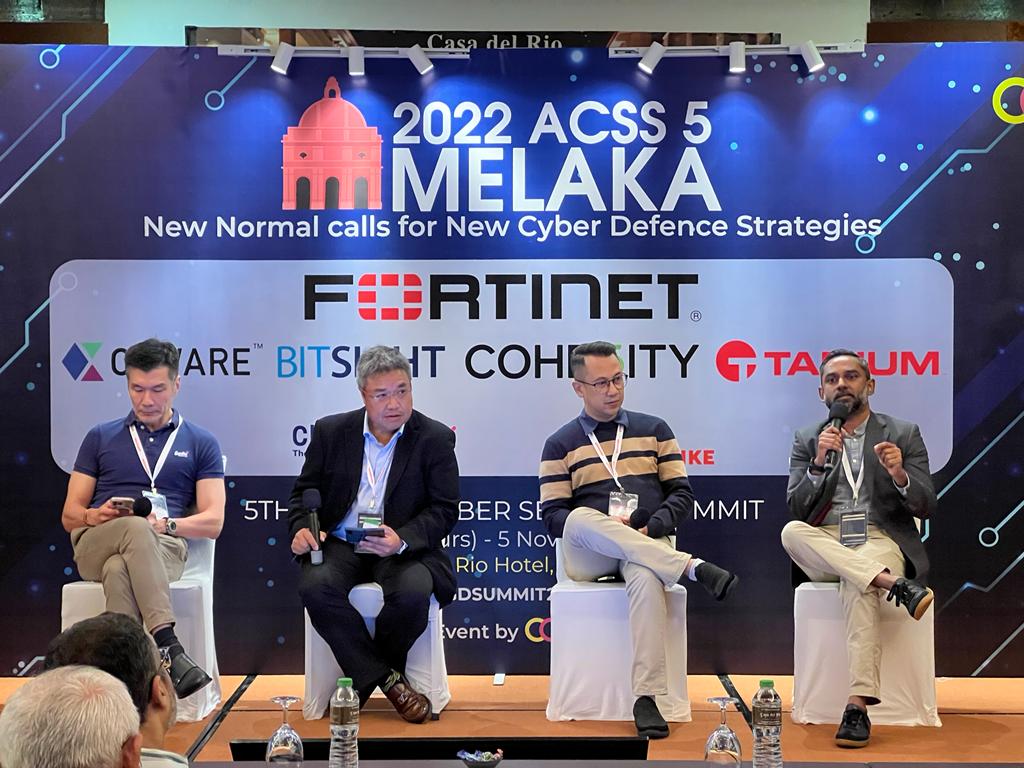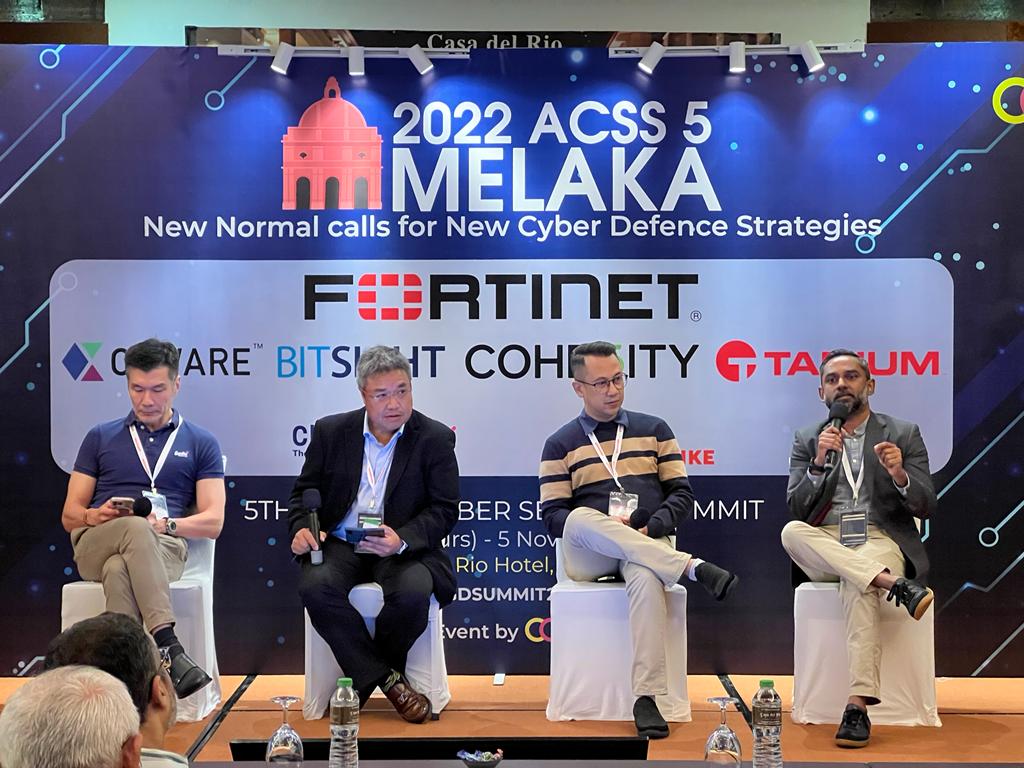 Half a billion lost to fraud in September 2022
Cybercrime, which includes theft or embezzlement to data hacking and destruction, spiked up 600% during Covid-19 pandemic.
The 5th OFFSITE ANNUAL CYBER SECURITY SUMMIT themed "New Normal calls for New Cyber Defence Strategies" saw CTOS participating in the forum whereby ransomware is the biggest discussed concern today.
CTOS General Manager of Cyber Security & Resilience, Sivanathan Subramaniam said back-up strategy to protect against ransomware attacks needs new way of thinking and deliberation.
"The back-up strategy needs to be aligned with your business, which means it has to be risk-based and with the current typical business expectations you will probably need to recover almost immediately. And with ransomware attack so pervasive the need for robust and reliable recovery strategy is something that businesses can no longer ignore" he said at the forum recently.
It was reported that half a billion ringgit has been lost to fraud in Malaysia just in September alone and 79% of local companies have been hit with ransomware.
It is vital for every industry to embrace new solutions and companies have to adopt good cyber security practices as soon as possible.
The top four cyber incidents in Malaysia (CYBER999) includes fraud, malicious code, intrusion and content related.
CTOS, Malaysia's leading Credit Reporting Agency, offers CTOS SecureID fraud protection and credit monitoring service for individual.
Click here for more info: https://ctoscredit.com.my/fraud-protection-credit-monitoring/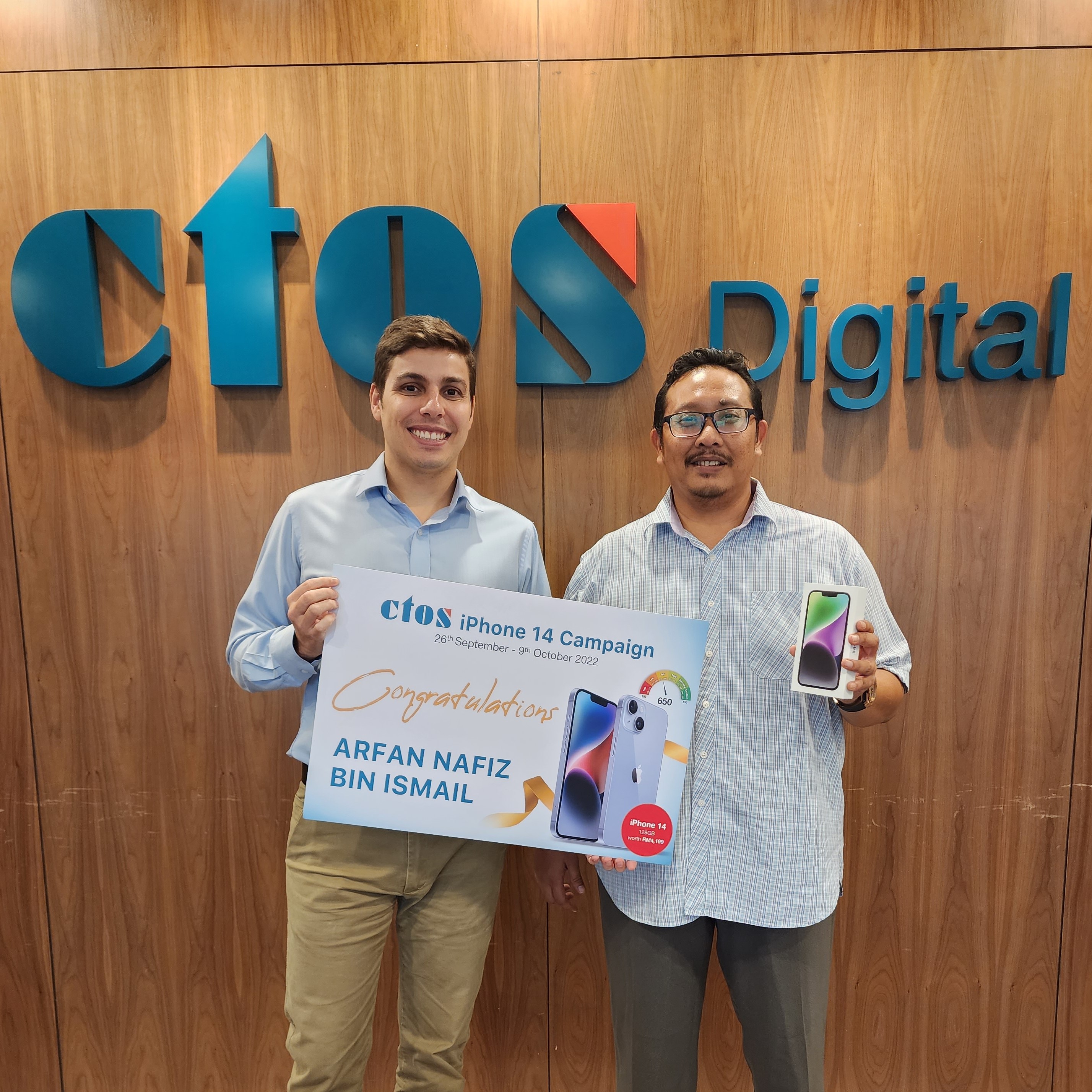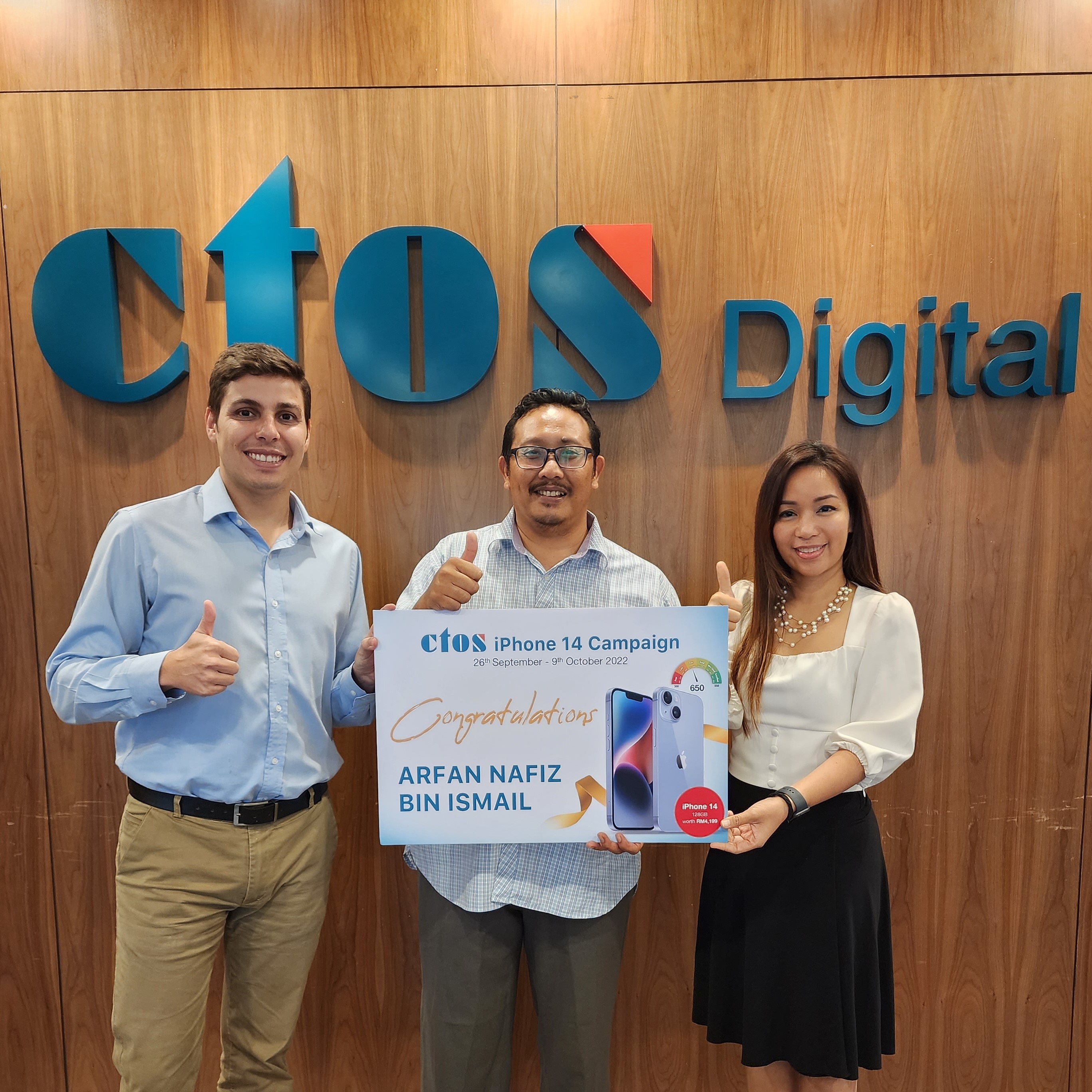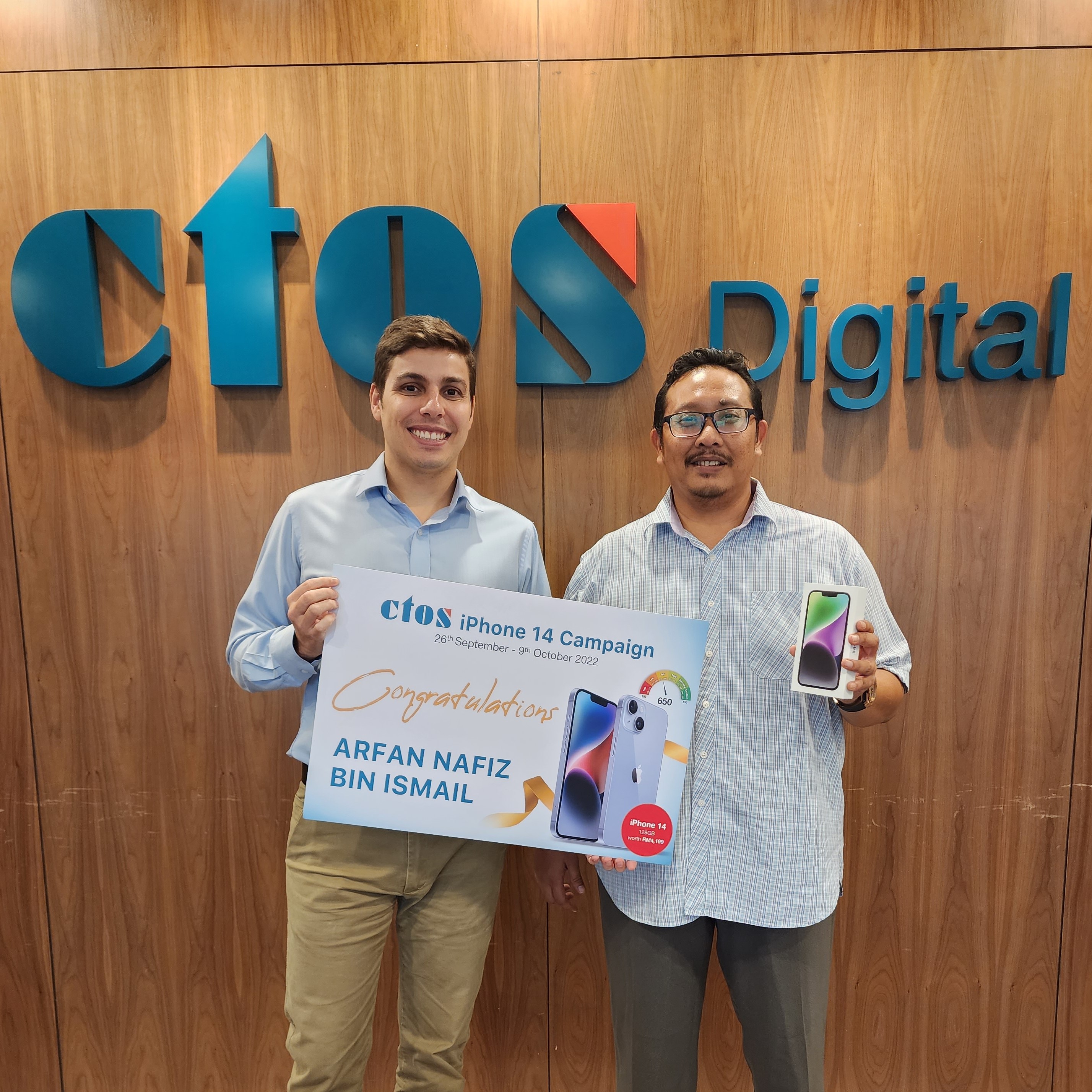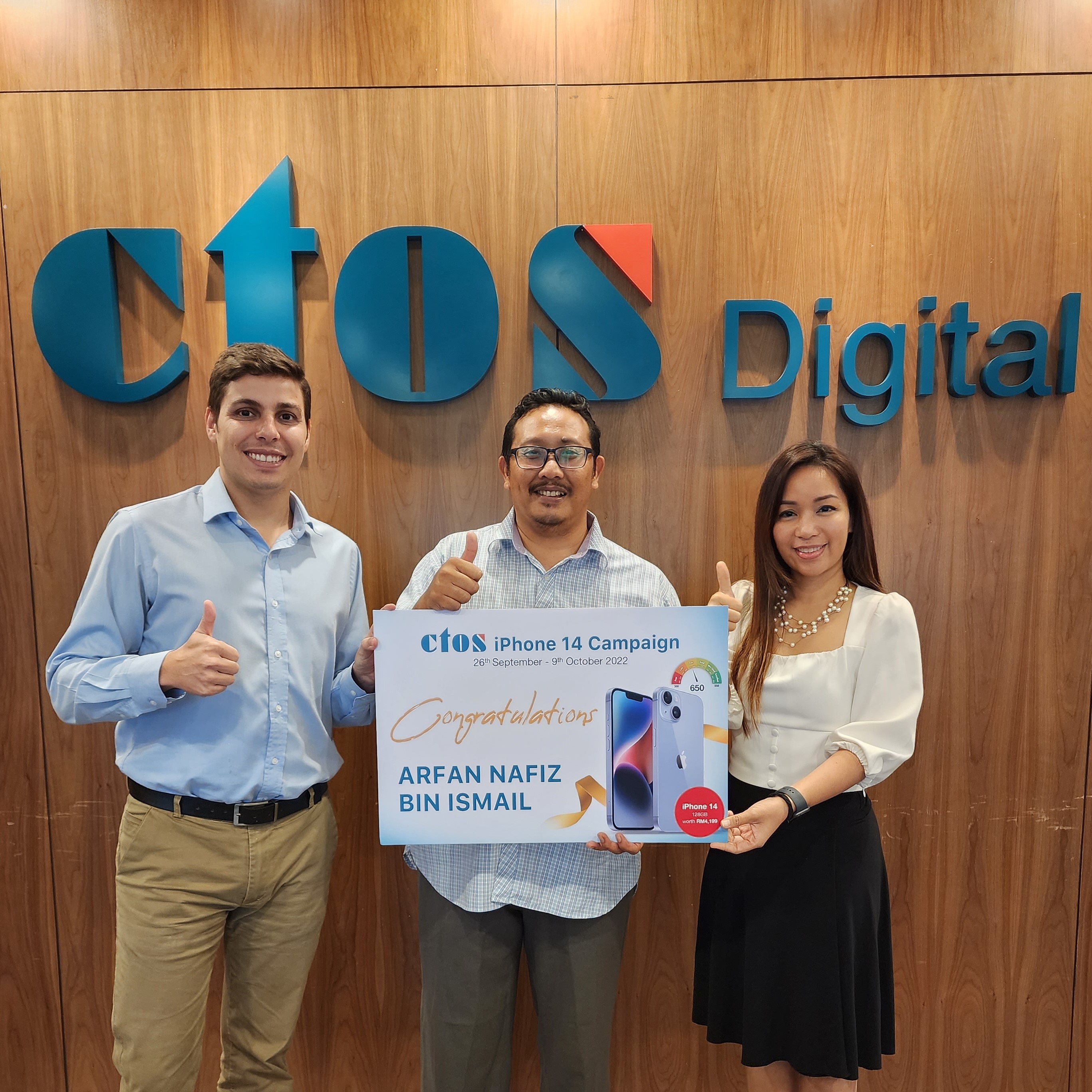 Contest winner walked away with an iPhone 14 from CTOS
Kuala Lumpur: Micro-entrepreneur, Arfan Nafiz Bin Ismail walked away with an iPhone 14 128GB in conjunction with 'CTOS iPhone14 Campaign' today. The 43-year old CTOS Self-Check user from Nilai participated in the campaign that took place between 26 September – 9 October 2022.
"I have been using CTOS services for few years already and the credit report has helped me to monitor and manage my financial and credit health better. Besides improving my CTOS Score to apply for business loan, CTOS self-check helps me to be aware of my outstanding debts," he said in the prize giving ceremony at the headquarters today.
GM of Marketing, Corporate Comm & Investor Relations, Norine Erica MJ congratulated Arfan and encouraged individuals to do CTOS self-check.
"As the leading credit reporting agency in Malaysia, our mission is to help empower individuals and businesses to get access to credit, enabling them to have better future. Therefore, it is important to do a CTOS self-check to better manage your financial health," she said.
CTOS received a total of 19,565 entries for the contest, out of which some 7500 were eligible based on their credit score which was above 650.
Also attended GM of Consumer Services, Rodrigo Maroto Merino.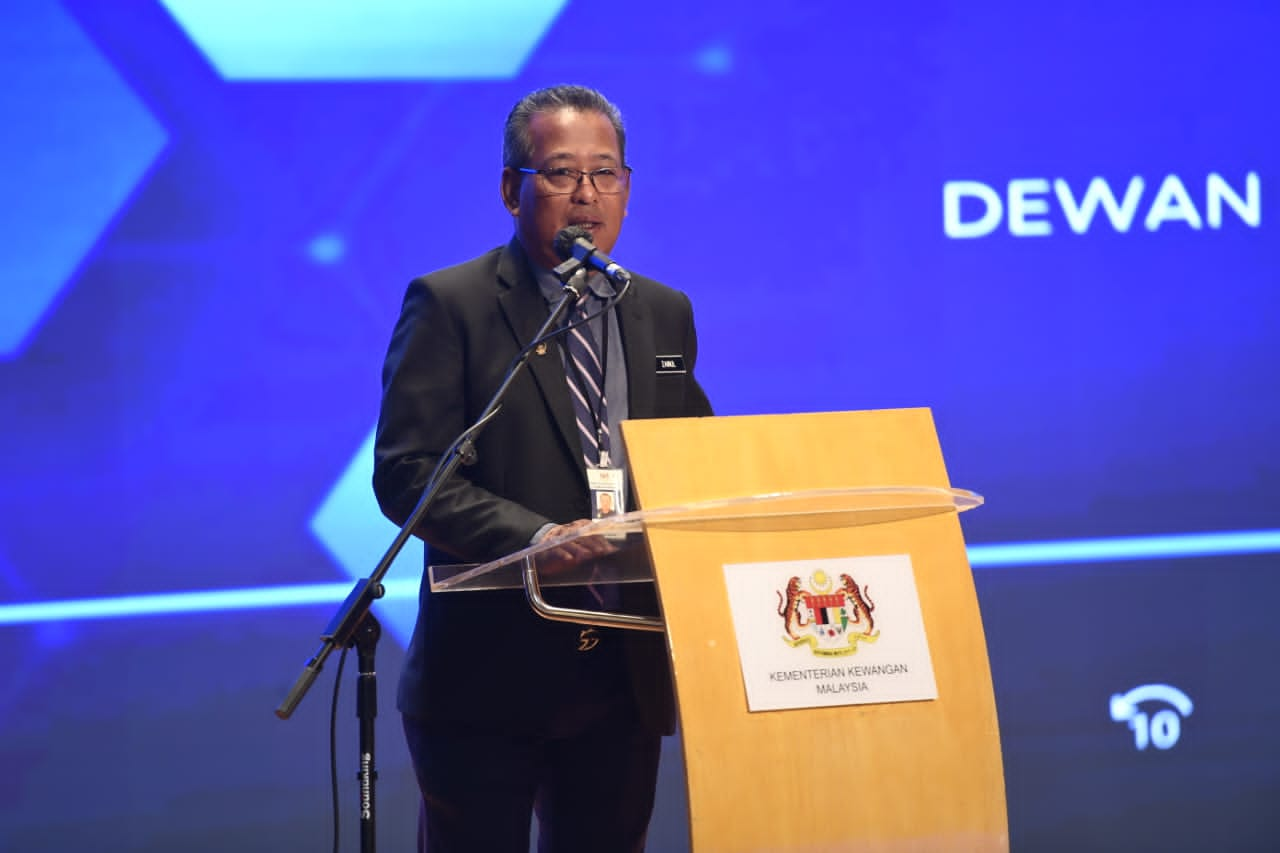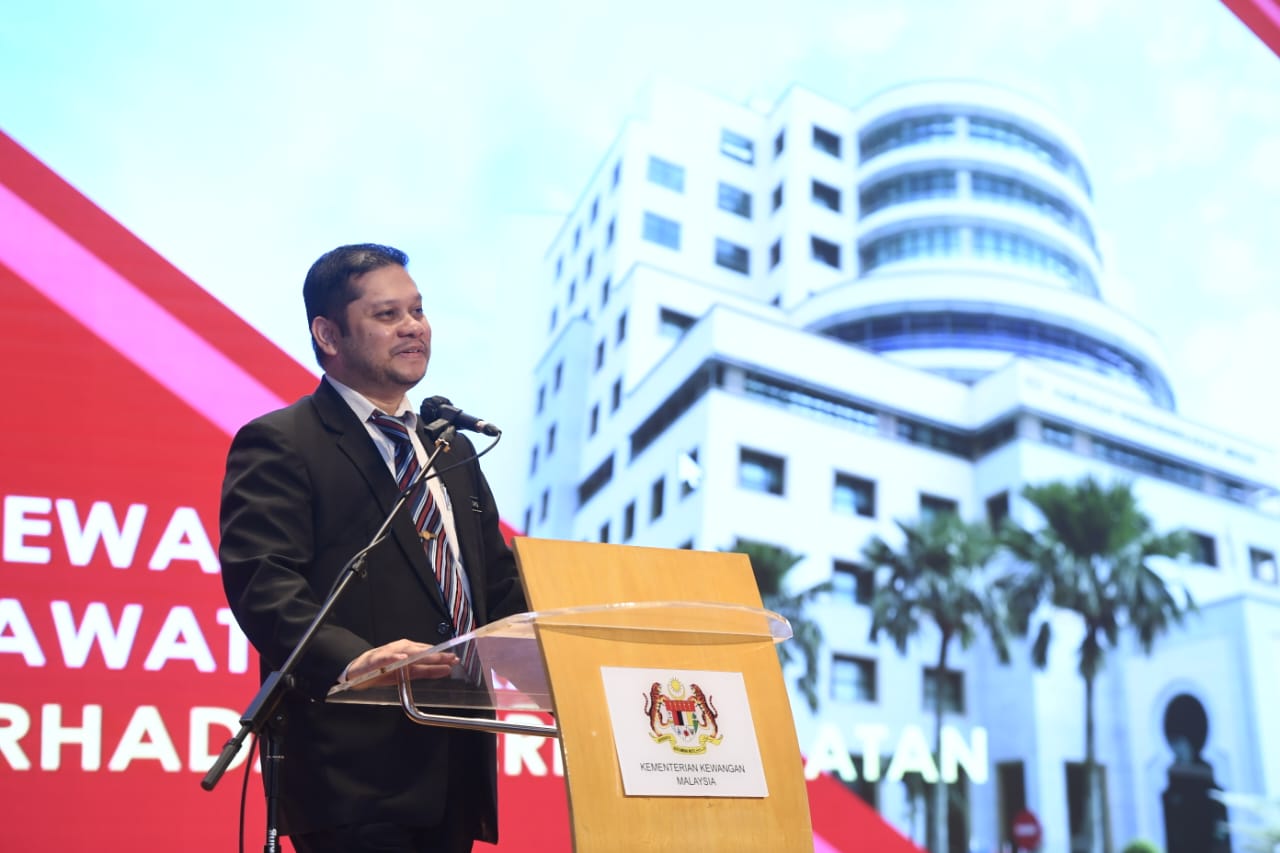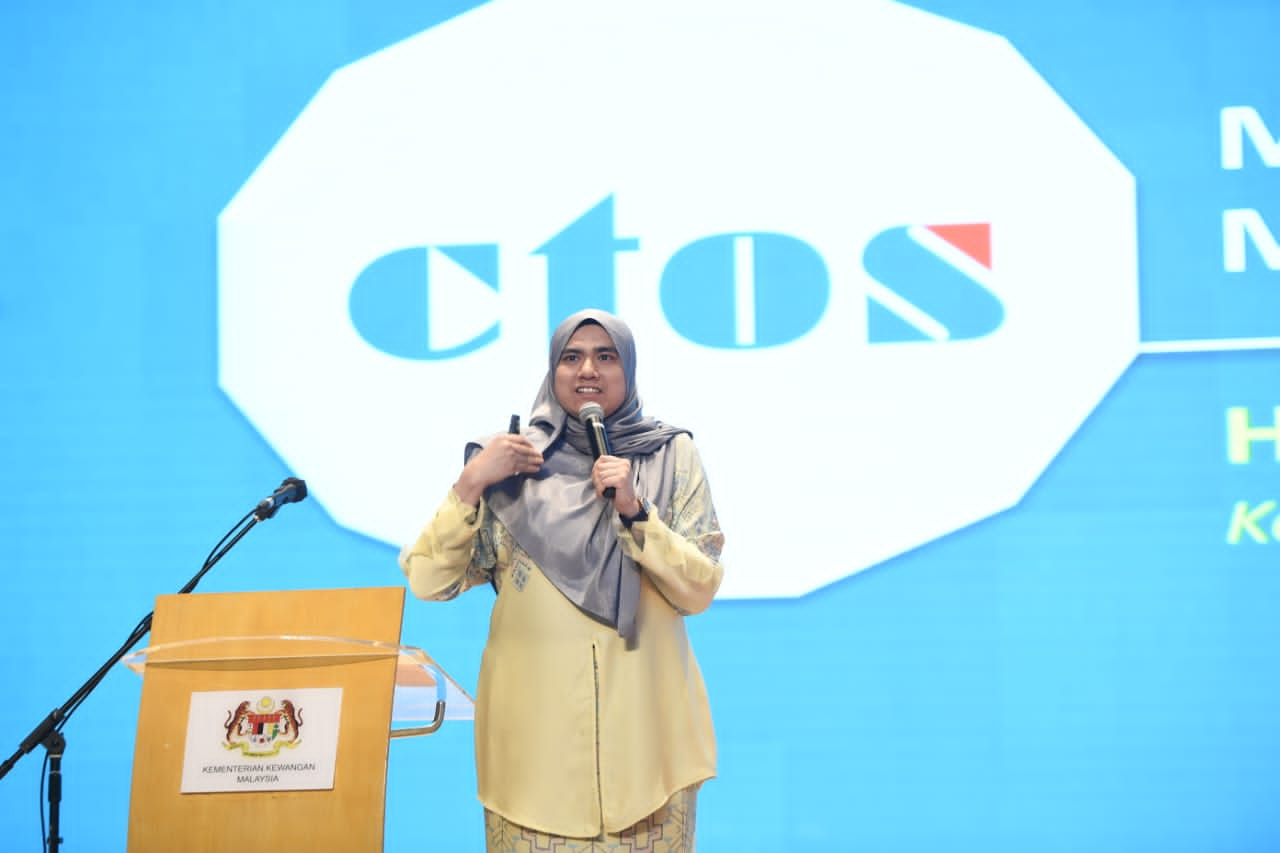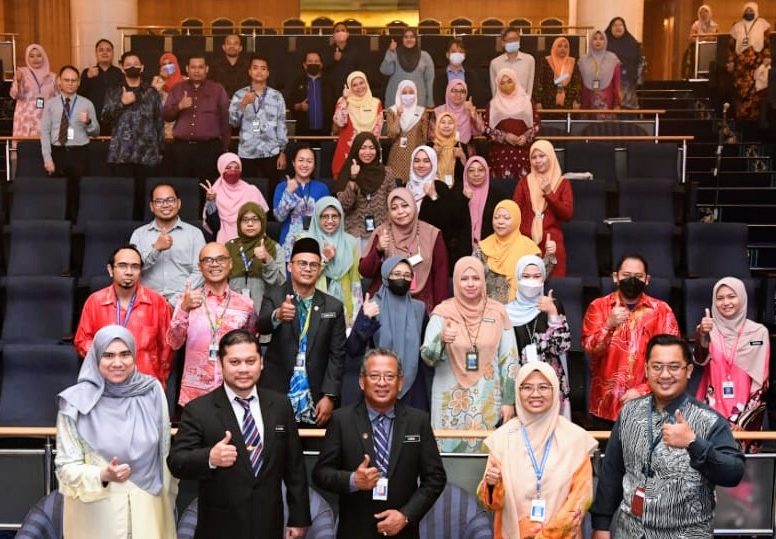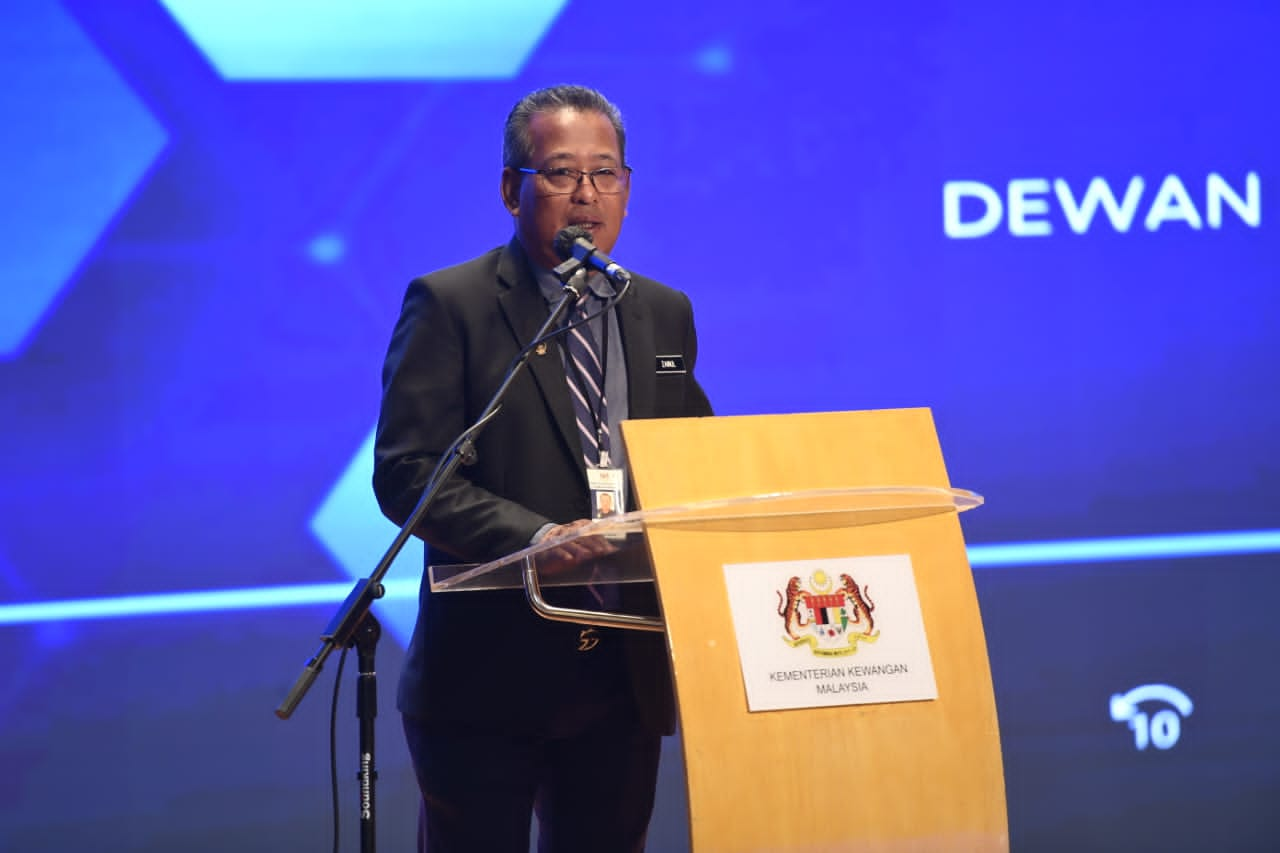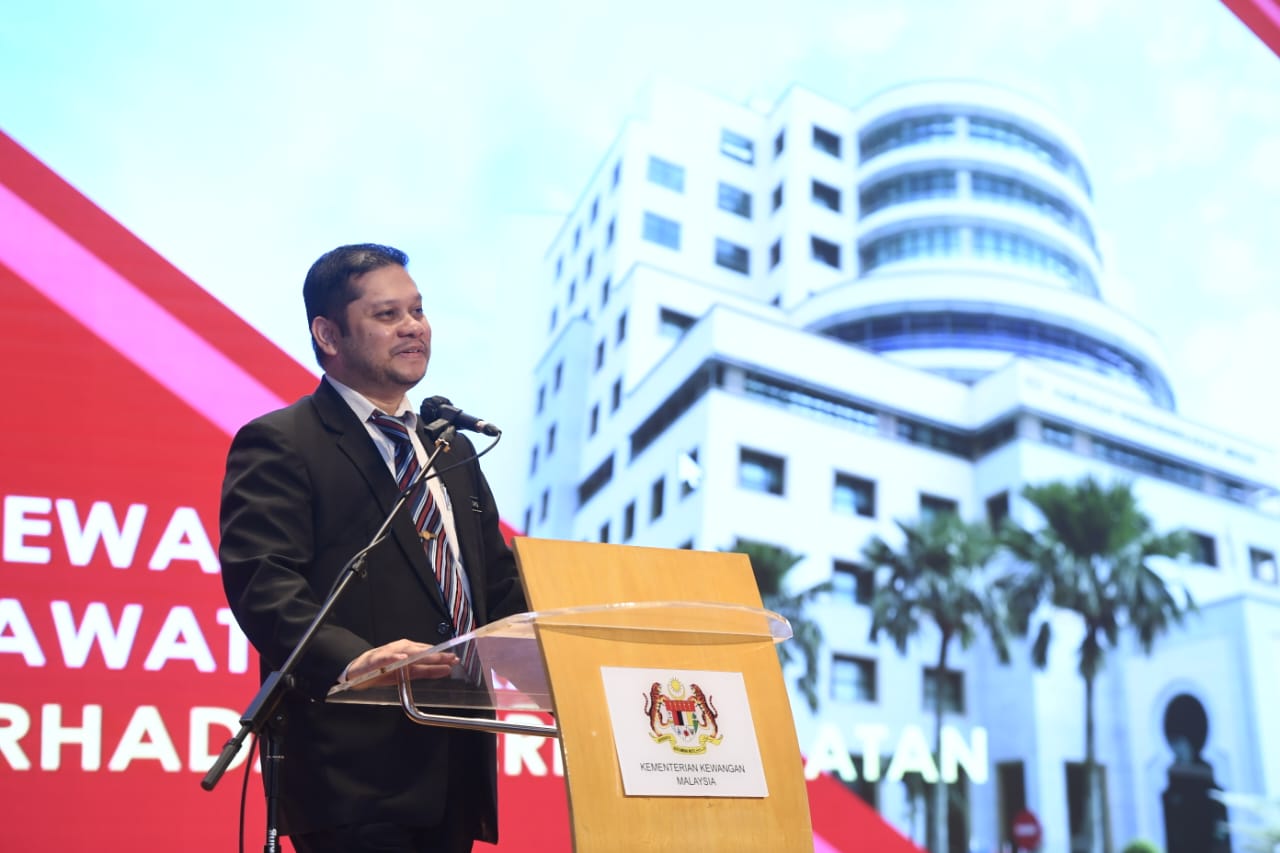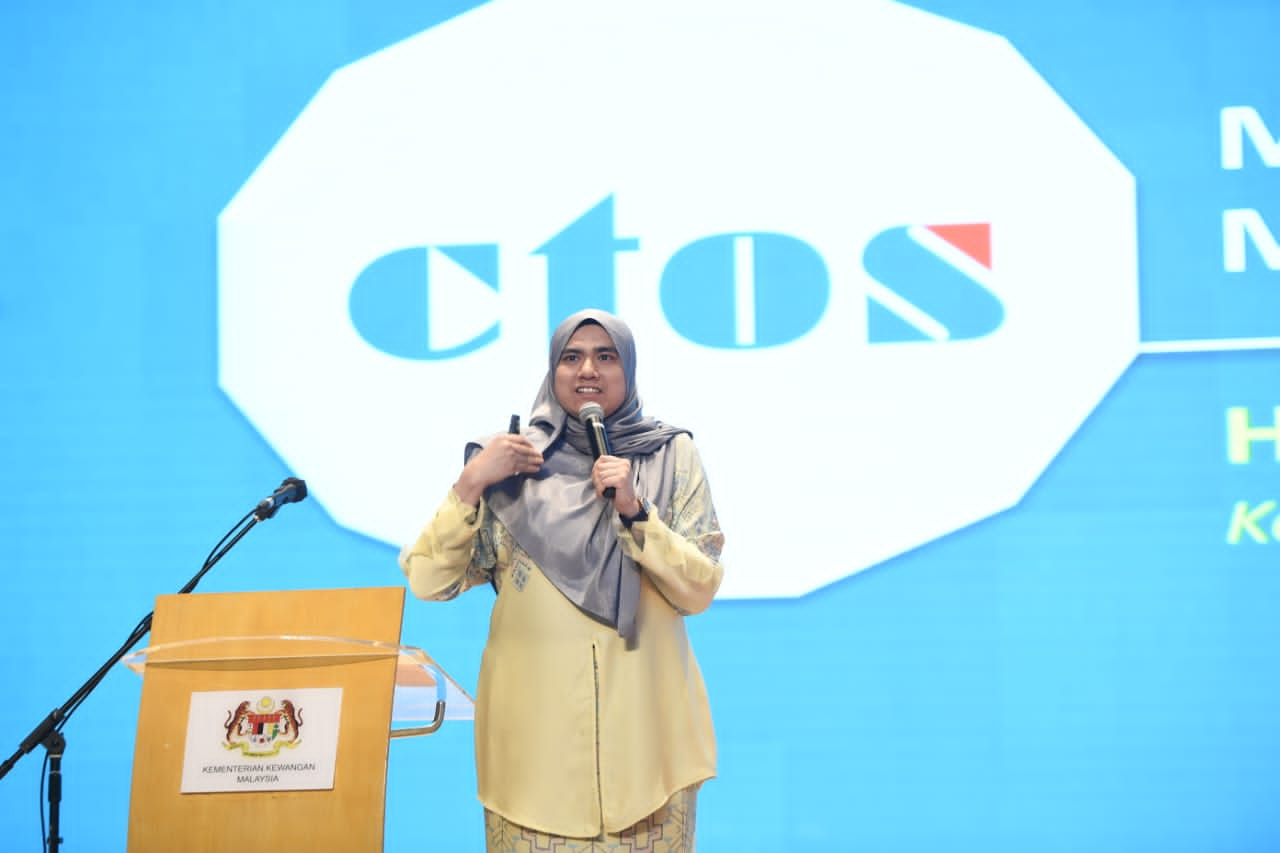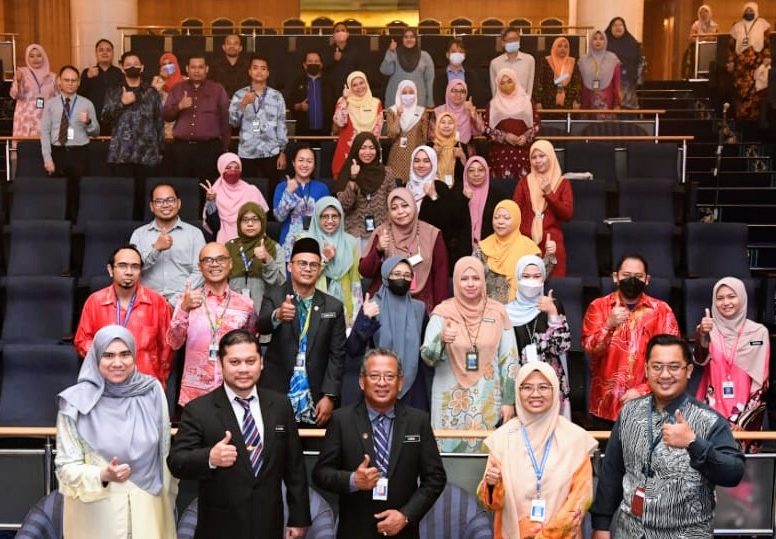 Ministry of Finance: The Integrity & Public Awareness program
Putrajaya : CTOS was invited to take part in a talk to the civil servants in the Ministry of Finance (MOF) today.
The Integrity & Public Awareness program on the implementation of the Credit Reporting Agencies Act 2010 (Act 710) was targetted at civil servants to better manage and improve their financial health.
CTOS team played a role in the talk, along with the Public Services Department (JPA) focusing on financial management and credit scores among civil servants.
Mr. Nor Zahidi Abdul Rahman from the JPA and Mrs.Hazwani Md.Noor from CTOS shared their insights on financial management impacts and how to improve credit scores of civil servants.
Participants who attended today also enjoyed a special benefit of getting their MyCTOS Score report for free.
The collaboration with the ministry's civil servants today saw participants gaining knowledge on how to manage and improve their finances for a brighter future.
Also attended, MOF Head of Integrity Dato' Zainul Darus and Assistant Registrar Nurul Majdiah Mohamad Sayuti.