Malaysia's Leading Credit Reporting Agency
Empowering Businesses with Better Credit Risk Management
Regulated by Registrar of Credit Reporting Agency, Ministry of Finance
CTOS Credit Manager is a web-based application that harnesses the power of a dynamic platform to search, store, monitor and manage all your customer information to reduce business credit risk. As CTOS's flagship business offering, this powerful solution is continuously improved and enhanced to ensure our customers have the best tool on hand to run their businesses smoothly.
Introducing the new CTOS Credit Manager Xpress – the perfect tool for busy business professionals who are always on the move. It's amazing convenience at your fingertips. It's built with mobile-first design technology to help you perform core functions with ease. CM Xpress is a value-added FREE feature for all Credit Manager subscribers. Switch seamlessly between both versions (existing and Xpress) according to your needs.
Use CTOS Credit Manager to help manage and reduce credit risk in 3 simple steps: –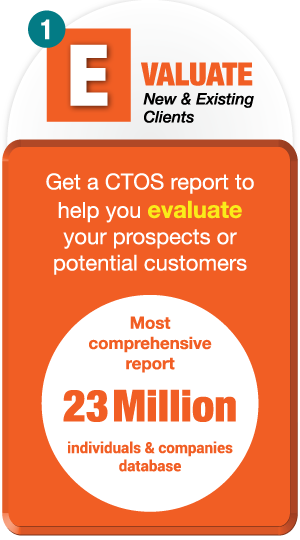 Perform pre-credit screening and due diligence check to assess the risk of new or existing customers and suppliers.
Check information related to: –

company profile/ SSM information (ROC/ ROB)
financials
banking payment history (CCRIS)
legal case/ litigation
bankruptcy, trade references

Other services, e.g. International and Singapore search, land title search, etc.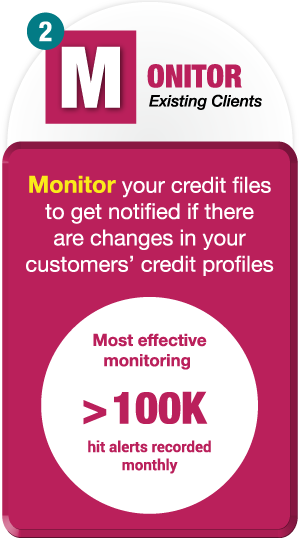 Stay informed on changes to your customers' business conditions.
Get automatic updates when a change happens on: –

financial
directorship/ ownership
business interest
legal case
trade reference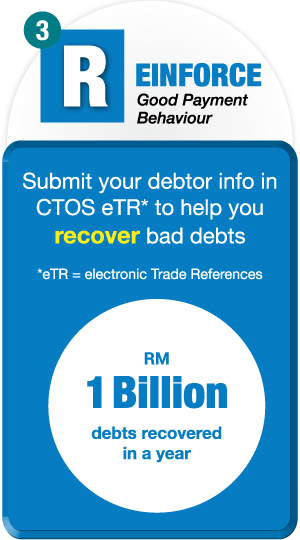 CTOS eTR is a neutral collaborative platform for subscribers to share their customers non-banking payment information, positive or negative, for debt recovery.
Help to reinforce good payment behaviour by encouraging individuals to settle outstanding amounts via CTOS electronic Trade Reference (eTR).
Manage Your Business Credit Risk
Find out how CTOS can help your business today.

Quick access to business insights from the CTOS database

Automated monitoring and alerts so you will always be informed

Cost-effective way to conduct due diligence

A web-base application that is convenient and easy to use

24-hour access


Enhance debt recovery