Malaysia's leading Credit Reporting Agency
Empowering Malaysians to achieve better financial credit health
Regulated by the Registrar of Credit Reporting Agencies
MyCTOS Score Report contains your full credit history, payment behaviour, your CTOS Score, directorship and business interest, litigation and bankruptcy record (if any) and more…

Credit health and score at a glance
All your credit information in one convenient report – know where you stand, credit-wise.

Get full CCRIS details and summary
Number of credit applications and amounts applied, loan information, CCRIS derivatives and more.

Learn how to improve your credit health
Easily identify areas to work on, so you know where to start and what to fix.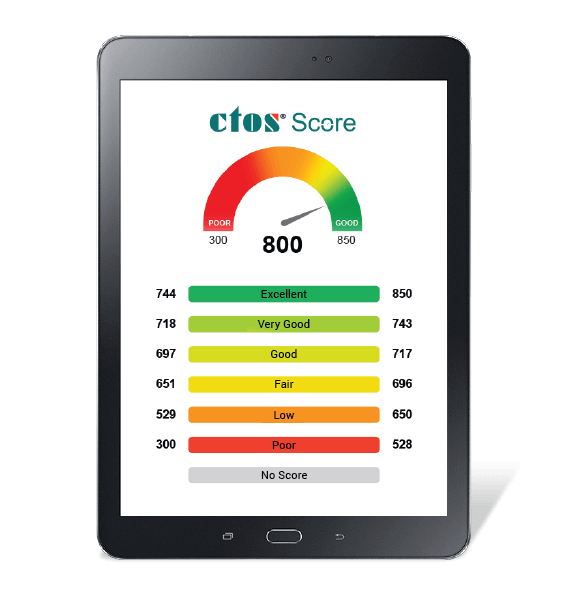 Personal –
Be credit smart
Your credit report affects many parts of your life. Banks check your credit report before approving you for credit cards and loans. Some employers check credit report as part of the application process. Find out what's in your CTOS credit report.
Start your journey, sign up in minutes

Identity Theft
Protection
CTOS SecureID
(exclusive of Service Tax)
New credit application alerts
Missed payments alerts
Change in credit limit alerts
Alerts on closure for any of your credit facilities
Alerts for change of address
Up to date scam alerts and prevention tips
Support for issues related to identity theft
4 MyCTOS Score Reports per year

Credit Report
& Score
MyCTOS Score Report
(exclusive of Service Tax)
Everything in MyCTOS Basic Report
CTOS Score
CCRIS Records (BNM)
Dishonoured Cheque (BNM)
Access to Rewards

Basic Credit Report


(Without CCRIS & Score)
MyCTOS Basic Report
Personal Information (NRD)
Directorship & Business Interest (SSM)
Litigation & Bankruptcy
Trade Referee Listings (eTR)
2 Free MyCTOS Basic Reports a year
How can we help?
We are committed to helping you protect and understand your credit