If you prefer to outsource the work, we also offer customised consulting services. Contact us for more details
One World
Powerful Cross-Discovery Platform by Handshakes
Handshakes is a SaaS platform that allows users to understand complex corporate relationships. Curated from official sources, users can generate interactive network maps and live reports of people and companies within seconds.
With One World, users can now gain actionable insights into 6 million entities and 14 million connections across Singapore, Malaysia and regional Capital Markets in one unified view.
FULLY UNIFIED DATA COVERAGE
One World unifies data from all 3 markets.
MALAYSIA
Official information on
private (SSM) and listed
companies
SINGAPORE
Official information on
private (ACRA) and listed
companies
HONG KONG
Official information on
listed companies
1. Corporate Intelligence Tools
Radial Map – Reveal an entity's network layer by layer.

Interconnection Map – Identify cross-connections, clusters and syndicates.

Beneficial Ownership Map – Map out the ultimate shareholders of a company through intermediate connections and interests.

Entity Profile Report – Gain basic information and actionable insights about a subject entity.

RED List Report – Reveals a person or company's direct and indirect exposure to adverse events.

Procurement Check – Identify potential conflicts-of-interest between service providers (or vendors) and companies.
2. Collaboration Tools
Flags – Designate entities-of-interest for all other users to take note.

Alerts – Receive push alerts on the activities of designated entities.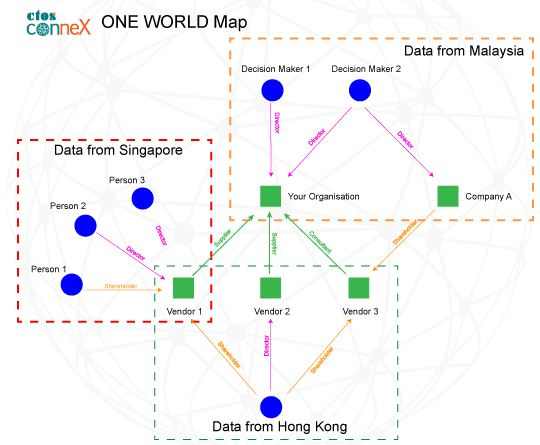 One World enables the searching and mapping of
multiple data points in one integrated search.
KEY USES
1. Regulatory Enforcement
Adverse exposure sensing

Compliance screening and fraud detection
2. Due Diligence
KYC : Uncover multi-layered, hidden corporate connections

Procurement – Vendor screening (conflict-of-interest / tender collusion)

Recruitment – Employee/directorial on-boarding

Internal Audit – Routine employee COI screening
3. Investigation
Commercial investigation – Identify stock market manipulation and investment fraud

Investigative journalism

Private investigation and litigation

Radial Map
Instant visual insights about people and company connections
Radial Maps are interactive visual maps to extract and analyse connections between people and companies. Users can select entities and relationships in a map, and conveniently drill down for more information. Analysis can also be deepened conveniently by expanding on entities to show the next layer of connections.
The information in Radial Maps can be saved and exported both as high-resolution images or data spreadsheets.

Interconnection Map
A powerful way to identify associates and indirect influence
Interconnection Maps identify how people and companies could be connected directly or through intermediate connections. They answer the question: "How are these people and companies connected?"
Users can interconnect up to 10 people or companies at a time. The degree of separation may also be adjusted by a user to show less or more indirect paths.

Legal Beneficial Ownership Map
A quick and safe way to conduct ownership checks
Legal Beneficial Ownership (LBO) maps exhaustively search for a company's beneficial owners, through every layer of shareholding, and presents the information in a visual hierarchy map.
Powered by official data, and designed with the support of the Singapore Institute of Chartered Secretaries and Administrators (Singapore ICSA), our LBO maps are an efficient and reliable way to conduct ownership checks.
In addition to showing shareholding structure, our LBO maps can also show voting power, which is shown as a percentage of ordinary shares held by shareholders at each level.

Investee Companies Search
Fastest way to discover a person's or company's ownership interests
Handshakes Investee Companies Search is the fastest way to discover a person's or company's ownership interests in Singaporean and Malaysian companies. It is the perfect complement to our widely used Legal Beneficial Ownership (LBO) Search. While the LBO search uncovers the layers of beneficial ownership behind a company, Investee Companies Search reveals all ownership interests that a person or company holds.
"What companies do my business partners own?"
"How much share ownership assets does this company have?"
"How can I discover and value effective interest in indirectly owned companies?"
If you've ever asked these questions, then a Handshakes Investee Companies Search can help you.
Providing the answers in a quick and cost-efficient manner, our intelligent algorithms drill through each layer of shareholding information to exhaustively traverse all possible layers of direct and indirect interests of a subject for:
1) Vested and deemed ownerships and shareholdings of an individual
2) Primary and secondary end corporations and subsidiaries of a company
The results are generated instantly and visualised as an interactive hierarchy chart for you to manipulate and analyse.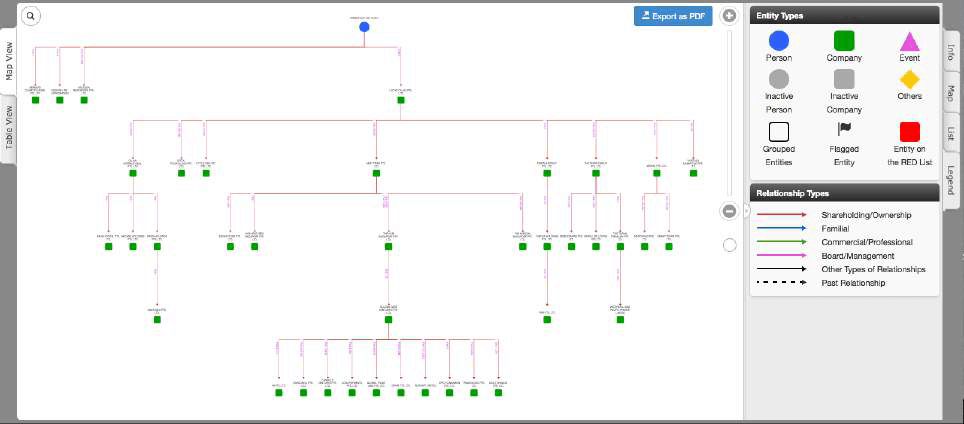 39 companies, 5 layers deep, mapped out in 1 second.

Entity Profile Report
Actionable intelligence on people and companies
Entity Profile Report contains basic information and analytics about a subject. Some unique features in our Entity Profile Report are the Probable Associates and RED Score analysis.
Probable Associates indicate persons and companies who may be associated with the subject. The RED Score flags out any direct or indirect past exposure the subject may have to regulatory, enforcement, or disciplinary actions.
The Entity Profile Report is generated instantly as a PDF document for intuitive reading and easy record-keeping.
Contents of an Entity Profile Report
Subject's Name
Subject's Aliases and Past Names
Place of Incorporation / Citizenship
Network Score (benchmark score for level of connectedness)
RED Score (indicates direct and indirect exposure to regulatory actions)
Probable Associates
Recent Public Disclosures
Current Directors / Directorships
Family Members (for persons)

RED List Report
Reduce your blindspots and gain greater assurance
RED List Report identifies in detail a person or company's direct and indirect exposure to adverse events.
This unique ability reduces blind spots and increases assurance to the user.
Powered by daily coverage of regulatory actions from the following official sources:
SINGAPORE

Accounting and Corporate Regulatory Authority


Commercial Affairs Department, Singapore Police Force


Corrupt Practices Investigation Bureau


Inland Revenue Authority of Singapore


Institute of Singapore Chartered Accountants


Securities Industry Council


Singapore Exchange Limited


The Monetary Authority of Singapore
MALAYSIA

Bank Negara Malaysia


Bursa Malaysia Berhad


Securities Commission of Malaysia


Suruhanjaya Syarikat Malaysia
HONG KONG

Hong Kong Exchange Limited


Securities and Futures Commission


Market Misconduct Tribunal


Insider Dealing Tribunal


Hong Kong Monetary Authority


Independent Commission Against Corruption


Companies Registry of Hong Kong

Procurement Check
Batch check all your vendors for potential conflict-of-interests
Procurement Check is a batch process that checks your suppliers for possible conflict-of-interests with internal decision makers. It is an affordable and scalable way to reduce the risk of procurement fraud.
Procurement Check is the perfect tool to verify vendor declarations of independence, and highlight areas of risk for further evaluation.

Alerts
Reduce your daily workload with push alerts
Alerts can be set on people and companies. Once set, you will receive email push alerts whenever a shareholding or directorship change regarding the subject occurs.
A good practice is to set your Alerts as you do your Origination or Due Diligence checks, and let our Alerts automate your post- transaction monitoring of counterparties.